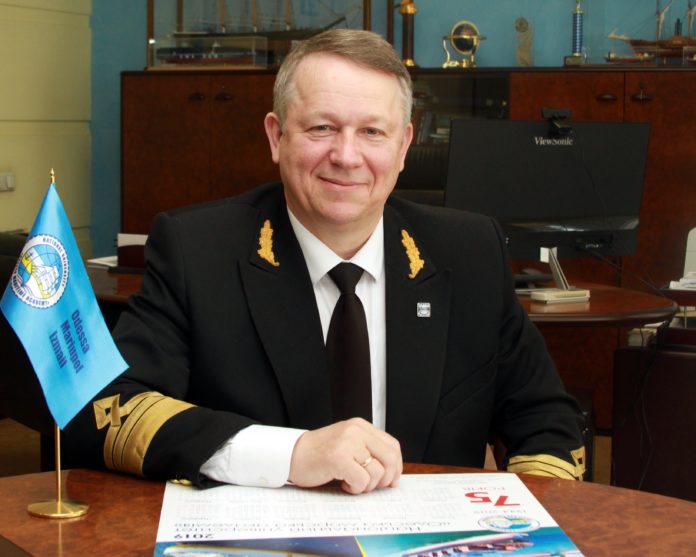 Having provided a great number of marine specialists in Ukraine, National University «Odessa Maritime Academy» is celebrating its 75th anniversary on June 7.
75 years is a long time even for a person. For the history of the University, which became Alma Mater for many marine officers, this is without exaggeration the whole era. The glorious history of National University «Odessa Maritime Academy» dated back to 1944 when Odessa Higher Marine School was formed. During the process of its development it was reorganized into Odessa Higher Engineering Marine School, Odessa State Maritime Academy, Odessa National Maritime Academy and National University «Odessa Maritime Academy». Thus, the University passed a long and arduous way to success.
Annually, young men and women aspiring to connect their life with the sea, enter National University «Odessa Maritime Academy». There are not only Ukrainians but also foreigners among the University's cadets. This is not surprising, as far as a diploma obtained at NU «OMA» provides the graduates with broad prospects for career growth both on board and a shore, in enterprises and companies of maritime industry.
Among the famous graduates of the Maritime Academy are the Heroes of Socialist Labour: Chief Mechanical Engineer of atomic icebreakers – Alexander Sledzyuk; Captain-Director of a whaling fleet – Alexey Solyanik; Captains represented by Kim Golubenko, Ruslan Evgrashkin, Alexander Krivobokov, Valentin Soloviev, Anatoly Tretyak, Gennadiy Fedchenko. Many graduates held senior positions in the Ministry of Merchant Marine of the USSR, led shipping companies, shipyards, design bureaus, maritime trade unions, higher educational institutions as well as other enterprises, organizations and companies. During the years of independence of Ukraine, the Academy's graduates worked in the management of transport industry: Minister of Transport – Nikolay Kruglov; Deputy Ministers of Transport – Vladimir Sevryukov, Sergey Simonenko; Deputy Ministers of Transport and Communication – Oleg Bondar, Vladimir Rabotnev; Deputy Minister of Infrastructure – Yuriy Vaskov. Captain Stanislav Nezavitin, who today heads the Association of Sea Captains of Odessa, stood at the origins of formation of Maritime Administration of Ukraine. In addition, Chairman of the current Maritime Administration of Ukraine, Dmitriy Petrenko, as well as his Deputy Dmitriy Barinov, also graduated from the Academy. Generally, many graduates took places in the top management of maritime companies.
After the break-up of the Soviet Union and the gradual plundering of the Black Sea Shipping Company, many were afraid that Maritime Academy would suffer the same fate. But on the contrary, the Academy gained a second wind and started developing with a vengeance, seeking to conquer the new horizons. Being appointed to the post of Rector in 2000, Mikhail Miyusov says as follows: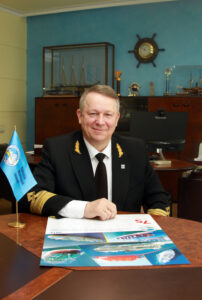 "The most important thing is to have a skeleton on which you can build up the muscles. By that time, the Academy had an experienced teaching staff, a powerful facility including 7 educational buildings, 6 campus housing buildings (dormitories), a sport complex with a swimming pool. Unfortunately, a significant part of the equipment was outdated and required upgrading. The state could not provide enough support. Thus, we set a course for expanding international cooperation, attracting funds from shipping companies and increasing the authority of our seafarers in the world fleet."
Indeed, the University has made significant progress during this time. The Academy has modern facilities and the up-to-date maritime simulators due to the participation in the international projects and sponsorship of such companies as: V.Ships, MSC, OSM Maritime Group, MOL, Stolt Tankers, Stargate Maritime, Columbia Shipmanagement, Minerva Marine and others.
Over the past 19 years, the University has become one of the first members of the International Association of Maritime Universities (IAMU), the Black Sea Association of Maritime Institutions (BSAMI). The University's representatives regularly participate in the work of Assemblies, Committees and Sub-Committees of the International Maritime Organization (IMO) as part of the official delegations of Ukraine and the International Association of Maritime Universities. Quality Management System is certified by Bureau Veritas. Besides, the accreditation commission of the Institute of Marine Engineering, Science   and Technology (ImarEST) four times successfully accredited engineering specialties of NU «ОМА». In July 2018б according to the accreditation's results the University was provided with an accreditation certificates for 4 Bachelor's degree study programs and for 4 Master's degree study programs in compliance with the requirements of the highest degree «Chartered Engineer» in the United Kingdom.
It has also become a good tradition to hold the annual International Forum on Seafarers' Education, Training and Crewing in Odessa. About 100 companies and organizations, 180 delegates from 25 countries of the world are expected to participate in 2019. The exhibition will be visited by thousands of industry professionals, seafarers and cadets. 
The success of any educational institution is a collective matter and depends on the diligence, perseverance and hard work of each member of the team, whether it be a professor, an assistant professor, a teacher or a student who has just joined this team. The main pride of the Maritime Academy is its graduates, according to Mikhail Miyusov.
In total, the Academy issued 3100 diplomas of various levels, from a Junior Specialist to Master's degree in 2018. The permanent leader in the number of cadets is still Navigation Faculty, which admitted more than half of all cadets last year.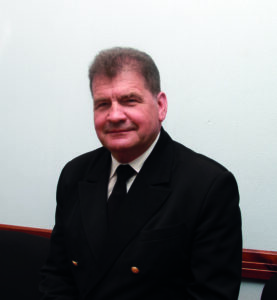 «There are really more people willing to go into navigation,» says Professor Nikolay Tsymbal, Dean of Navigation Faculty. «Even 20 years ago, our graduation amounted to about 60 people, today it is more than 250. Many of cadets tend to undertake a master's degree, that is good news. As you know, under the Ukrainian legislation, it is possible to hold positions of senior officers only with a degree of a specialist and a master.  In 2018, the number of places in the magistracy was increased, meaning that more boys and girls will be able to occupy a high position on board.»
More than 800 cadets underwent on-board training on ships of 132 foreign companies. Every year, more and more shipping companies are giving preference to the graduates of National University «Odessa Maritime Academy». Today, Ukraine occupies one of the leading positions as a seafarers supplying country for the world fleet, and NU «ОМА» is the main provider of qualified marine personnel. It is worth mentioning that Maritime Law and Management Faculty with increasing number of girls has gained widespread popularity. The faculty graduates are in high demand in coastal divisions of the maritime industry.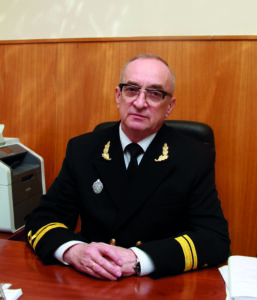 «Many of us have dedicated our lives to Maritime Academy,» says First Vice-Rector Alexander Shemyakin. «I spend more time here than at home, and I can say with confidence that this University staff has become my second family.»
Looking back over the path we have travelled, Rector Mikhail Miyusov is not intending to rest on his laurels. He is confident that the real achievements of Maritime Academy are yet to come. The passing 75 years of the University's life should be perceived as a beautiful overture to a large symphony in which everyone can perform a beautiful bright part.